Open To Interpretation
Notes: game on...on the radio...Angels and Astros...the Archons, I learn, are a popular topic on the late nite Mysterion radio talk shows...ufos and such...trying to figure them out unfocused my focus!...charlatans are all of the same fabric...they present their view to the exclusion of any other views...don't know but that's a common thing in politics too...seldom do we hear the oppositions views from one side or another stated objectively...there's a clip on youtube of a fellow promoting his invention of a paper microscope...thought is it can be used for doctoring in poor countries, out in the country sides...the audience is under his spell, approving...comments too...though comments are always suspect of being by sock puppet trolls...watching the clip I thought it was like watching those magic kitchen utensil salesman at the county fair...and to prove the strength of the paper microscopes utility, he drops it and steps on it...proof sure of it's value insomuch as a real microscope would break...way it works, a glass slide is positioned on a piece of thick paper cardboard over a small lens...the specimen, malaria the example, is on the slide...then, wala, a beam of light shines through the tiny lens, through the slide, and projects big on a screen...I dunno...it's still a 'microscope'...it needs the light, and the screen...and has a breakable glass slide...granted there could be a flashlight and a white wall, but still...anyway, while he goes on and on, he's holding a cell phone...or maybe it was the control for the slide show screen, and I mistook it for the marvel he was going to reveal...after watching the clip, and scratching my head, I google searched: cell phone microscope...wala...Astros made out...to bottom of 1st...Trout up...two out?...Trout's been batting third...usually bats second...base hit!...first hit in this series with Astros...third game today...
quote
It's a cliché to say that your smartphone is a pocket-sized computer, but sometimes we forget exactly how powerful these devices are. BLIPS — a set of thin, stick-on lenses that turn your cell phone into a portable, digital microscope — are a brilliant reminder.
... ... ...
This isn't the first cheap lens we've seen that can convert your smartphone to a microscope, but it is the most accessible. Foldscopes
offers a similar product
, for example, and its lenses cost less than $1 to build, but they're not available to buy generally, and are aimed mainly at scientific users in the developing world. If you want to remember how amazing your cell phone is, BLIPS might be worth a try.
https://www.theverge.com/circuitbreaker/2016/5/20/11719450/blips-smartphone-microscope-attachment
unquote
I always wanted a binocular biological microscope, one to look at butterflies and such, like the ones in biology classes...don't know if I still have my single eyepiece microscope...somewhere in the garage storage...Upton K...Trout stole second to no avail...to top of 2nd...it just had a mirror to redirect the light source...thing about the cell phone microscopes one can do with the image what is done with photos nowadays with the web and computers...just the usual lenses in cell phones are rivaling camera lenses...I daydreamed in the Valley of having a little blimp, or toy radio controlled helicopter, with a camera...(even speculated such would be great for rescue searches)...to fly about in my chasing after critters...this before go pro video cameras and drones!...it's impressive how stable and professional looking the go pro/drone movies look!...runner at second on third...one out...Heaney on mound...
quote
Manu Prakash: A 50-cent microscope that folds like origami
Perhaps you've punched out a paper doll or folded an origami swan? TED Fellow Manu Prakash and his team have created a microscope made of paper that's just as easy to fold and use. A sparkling demo that shows how this invention could revolutionize healthcare in developing countries ... and turn almost anything into a fun, hands-on science experiment.
TEDTalks is a daily video podcast of the best talks and performances from the TED Conference, where the world's leading thinkers and doers give the talk of their lives in 18 minutes (or less). Look for talks on Technology, Entertainment and Design -- plus science, business, global issues, the arts and much more.
https://www.youtube.com/watch?v=h8cF5QPPmWU
unquote
hmmph...another hit and Astos score...Astros 1-0...runners at corners still...soft liner to Upton...out...to bottom of 2nd...Ohtani up...lead off walk...cloud chambers...
quote
Cloud chambers cooled by
dry ice
or Peltier effect
thermoelectric cooling
are common demonstration and hobbyist devices; the alcohol used in them is commonly
isopropyl alcohol
or
methylated spirit
.
https://en.wikipedia.org/wiki/Cloud_chamber
unquote
Ohtani took off...and a double off the wall by Kinsler...Ohtani scores...Ohtani runs the bases funny...nearly ran himself, hesitating, out of reaching home...wild pitch and Kinsler to third...a hit...Kinsler scores...Angels 2-1...thinking of tiny things thought of cloud chambers...remembered from school science shows...sac bunt by Breseno...Valbuena to second...Fletcher up...ninth?...hmmph...cloud chambers reveal the travels of electrons?...thought it was atoms I was seeing...Calhoun walks...missed what happened to Fletcher...Angels make out...to top of 3rd...
quote
The researchers captured these images using an atomic force microscope and a special technique that allowed them to map the subtle differences in charge in different areas of the molecule. They were also able to determine the strength of the bonds between the individual atoms in the molecule.
http://www.businessinsider.com/scientists-can-now-see-individual-atoms-2012-9
unquote
that's tiny!...one out...line drive out to Simmons...runner on first previous...two out...
quote
The team developed a pattern of pillars that is extremely water-repellent, causing the moisture to evaporate quickly and leave behind strands of DNA stretched out and ready to view. The team also drilled tiny holes in the base of the nanopillar bed, through which they shone beams of electrons to make their high-resolution images. The results reveal the corkscrew thread of the DNA double helix, clearly visible. With this technique, researchers should be able to see how single molecules of DNA interact with other biomolecules.
https://www.newscientist.com/article/dn22545-dna-imaged-with-electron-microscope-for-the-first-time/
unquote
Trout up...Trout on first...missed how!...lol...gnomic growth...a home run for Upton...twentieth for the season...Angels 4-0...Ohtani flies out...first out...Kinsler up...
quote
You have certainly noticed that the shell of an immature mollusk often resembles fully grown shells of the same species but in miniature. Each one is an exact model, to scale, of the other. Seashells, with their auto-similar shape, may be represented by a three-dimensional surface, generated by a simple equation, with some free parameters. Amazingly, in spite of the simplicity of that equation, it is possible to generate a great variety of seashell types.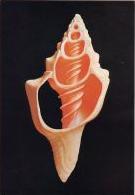 The mollusk does not enlarge its shell in a uniform way: it only adds material in one of the edges of the shell (the open or "growth" ending) and makes it in such a way that the new shell is always an exact model, to scale, of the smaller shell.
These constraints have a mathematical consequence: almost every shell follows a growth rule based on an
equiangular spiral
: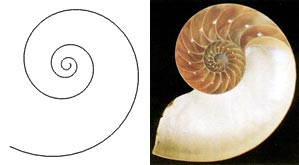 http://www.mat.uc.pt/~picado/conchas/eng/introdeng.html
unquote
top of 4th...wait..Valbuena up...got ahead of myself...Kinsler forgot how many outs...out on Valbuena's fly out standing on second...throw to first...DP...sheesh...now it's top of 4th...one out...gnomon...
quote
Perforated gnomons projecting a pinhole image of the sun were described in the Chinese
Zhoubi Suanjing
writings (1046 BCE—256 BC with material added until circa 220 AD).
[8]
The location of the bright circle can be measured to tell the time of day and year.
https://en.wikipedia.org/wiki/Gnomon
unquote
hmmph...sundials are gnomons...
quote
A
gnomon
([ˈnoʊmɒn], from
Greek
γνώμων
,
gnōmōn
, literally: "one that knows or examines"
[1]
[2]
) is the part of a
sundial
that casts a
shadow
.
same wiki
unquote
Astros make out...to bottom of 4th...
quote
In
geometry
, a
gnomon
is a plane figure formed by removing a
similar
parallelogram
from a corner of a larger parallelogram; or, more generally, a figure that, added to a given figure, makes a larger figure of the same shape.
https://en.wikipedia.org/wiki/Gnomon_(figure
)
unquote
one out...Fletcher up...one out single...Calhoun up...2-2...a hit...runners at the corners...Simmons up...
quote
Heron of Alexandria, a 1st century AD Greek mathematician, defined a gnomon as "any figure which, when added to an original figure, leaves the resultant figure similar to the original." This is the symbol of growth by accretion, or evolution from a seed point.
http://www.sangraal.com/library/gnomon.htm
unquote
5-3-5 double play...but!...Fletcher crosses plate before second out...Angels 5-1...eesh...that site is 'unfocusing'...for sometime...reach here is that the ancients were well aware of gnomic growth...and it shows up in their artistries in New and Old world...which is kind of mind boggling...as, for example, wiki's take makes no mention of the ancients 'sacred geometry'...and neither does are schooling...Astros make out...yet, there it is, in all the ruins and ancient things...
quote
Since meaning is essentially mythological, let us look at the evidence through the lens of myth. The Throne of Osiris, the place where sentience rules, is the physical manifestation of Mind in the Universe. This tells us that the key to inter-action with Mind in the Universe is the One and Eight geometry of physical evolution's gnomic growth. Long ago, perhaps as much as 20,000 years ago, human's learned this and symbolized it as the classical labyrinth, which became a developmental tool for human evolution. The peak came with the Great Leap Forward of the Temple of Man at Luxor. After that, the understanding shattered and slowly faded away.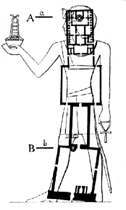 same site
unquote
Trout up...lines out...Upton up...well, to delve a bit...I'm familiar with that bit...it's Schwaller de Lubiez's
Temple of Man
...am I reading his work there?...brb...Ohtani up...Angels have runner?...pitching change for Astros...author of site page
unquote
The Unified Fields of Gnosis: The Gnomon, The Labyrinth & The Celestial Tree of Life
Ohtani fc...review?...on grounder by Ohtani...phantom tag...Kinsler out...two out...
quote
René Adolphe Schwaller de Lubicz
(December 7, 1887 – 1961), born René Adolphe Schwaller in
Alsace-Lorraine
, was a French alchemist, student of
sacred geometry
and Egyptologist known for his twelve-year study of the art and architecture of the
Temple of Luxor
in
Egypt
and his subsequent book
The Temple In Man
.
[
https://en.wikipedia.org/wiki/R._A._Schwaller_de_Lubicz
New Age stuff makes my eyes glaze over...but back in the day, de Lubiez was a curio!...
quote
He argued that Egyptian temples were used for mystical
initiations
, and that their design incorporated symbolism expressing a belief system that combined religion, philosophy, art, and science.
[16]
He believed, for instance, that the Egyptians were aware of astronomical concepts like
axial precession
, which was reflected in their
religious beliefs
.
same wiki
top of 6th...well, the ancient traditions introduced each successive generation to the 'system'...somewhat, as I conjectured yesterday?, this post sixtyfourth in a series see previous, as I conjectured yesterday baseball is a tradition that makes baseball players...all those old ruins and things were devices to pass on from one generation to another their respective cultures...well, that's a no brainer...all the modern monuments and temples and churches and such have the same purpose...from childhood on we're made into 'baseball players'...or Disney fans...fanatics!...
quote
His three-volume work
The Temple in Man
includes a drawing that compares the plan of
Luxor Temple
to the shape of a human skeleton.
same site
unquote
I can't follow it all myself...sacred geometry is as obscure to me as geometry...religion or science, it's all 'greek'!...but I get the ghists!...and where the two seemed to dovetail is geometry in Nature...that there is geometry in Nature was kind of an eye opener to me in the first place...it's not taught in schools...or skirted...some things get through...Donald Duck in Mathematical Land!...Astros made out...to bottom of 5th?...6th...
quote
Donald in Mathmagic Land
is a 27-minute
Donald Duck
educational
featurette
released on June 26, 1959.
[1]
The film was nominated for an
Academy Award
, and became a widely-viewed educational film in American schools of the 1960s.
... ... ...
After shaking hands with Pythagoras, who then vanishes, Donald finds on his hand a
pentagram
, the symbol of the secret
Pythagorean society
. The Spirit then shows Donald how the mysterious
golden section
appears in the pentagram. Next, the pentagram is shown to contain the pattern for constructing golden rectangles many times over. According to the Spirit, the
golden rectangle
has influenced both ancient and modern cultures in many ways.
https://en.wikipedia.org/wiki/Donald_in_Mathmagic_Land
unquote
as kids, we would draw pentagrams on our palms...it was the sign of a Werewolf!...
quote
In this movie, Lon Chaney Jr. goes home to Talbot County before he turns into a werewolf. He walks into a shop and buys a neat looking cane that has a silver head of a werewolf at the top of the cane. After buying the cane, Lon Chaney Jr. turns into a werewolf and he can then see the pentagram symbol on future victim's skin. This take on werewolf theory however was mostly the product of the movie writer's imagination as it can be seen nowhere else in werewolf folklore (well, none that I can find anyway.)
https://www.werewolves.com/werewolves-and-pentagrams/
unquote
that was the first Werewolf movie...the best...been lots since!...a curio is that shape shifting into a Jaguar was a Mesoamerican motif...what happened when one entered the altered state...Calhoun up...well, proof of geometry in Nature is everywhere apparent...seashells, bee hive honey combs, five petal flowers...bi lateral symmetries...chaos theory brought to the forefront fractal geometry, which showed there is mathematical patterns even in amorphous looking things...
quote
A fractal is a natural phenomenon or a mathematical set that exhibits a repeating pattern that displays at every scale. If the replication is exactly the same at every scale, it is called a self-similar pattern.
http://www.crystalinks.com/fractals.html
unquote
or called a gnomon?...rbi hit for Simmons...Angels 6-1...I think...five fold symmetry is said to be the symmetry of life...
quote
Fivefold symmetry is common in flowers, fruits, molecules, logos, and buildings, but it is a forbidden symmetry in the world of crystals. A few years ago, the so-called quasicrystals were discovered displaying fivefold symmetry, and it caused a minirevolution in crystallography.
https://www.worldscientific.com/worldscibooks/10.1142/1359
unquote
Heaney done...held Astros to one run...top of 7th...to figure out the ancient mysteries, there's need to be a 'loose end'...something to grab onto to untangle the 'knot'...the enigmas...and one thing to look for by the scholars are the symmetries...single off the wall for Astros...good play by Calhoun...two out...thought I wonder if they do that!...the Mysterions find them all the time...sacred geometry popular in New Age and such tales...and there there...just no doubt...the ancients knew of such things like gnomic growth...Bedrosan on mound...W...two on two out...a mound visit...Upton dogs a play...off his glove and two runs score...Angels 6-3...put Ohtani in left!...lol...Astros make out...to bottom of 7th...
quote
Thoth's roles in Egyptian mythology were many. He served as a
mediating
power, especially between
good
and
evil
, making sure neither had a decisive victory over the other.
[28]
He also served as scribe of the gods,
[29]
credited with the invention of writing and
Egyptian hieroglyphs
.
[
https://en.wikipedia.org/wiki/Thoth
unquote
that box within a box is everywhere in ancient Egyptian art...and it symbolizes gnomic growth...so is the thought...and if that is true, then all the other stylizations have a similar depth in meaning...casting about for that image, found the one with Thoth sitting on it...
quote
Thoth
is the Lord of the Tree of Life,
Nin-Gish-Zidda
for the Sumerian,
Hermes
for the Greeks,
Kukulcan
and
Quetzalcoatl
for the Aztecs and Mayans respectively – the Plumed or Winged Serpent. Symbolized both with the ibis-headed scribe, and the dog-headed baboon by the Egyptians as
Thoth
. He is the Roman god
Mercury
and
Hermes Trismegistos
the author of the
Tabula Smaragdina
– the all important document for the Alchemists of the European mystical tradition.
unquote
Ohtani broken bat single..."Wonderful Pistachios--let's get crack'n'!"...Kinsler double...Ohtani to third...one out...finding these stepping stones probably shows the strange 'flying sickness' of my mind!...lol...but there that is...Thoth set side by side with Veracocha...which takes me to today's reach!...the waves within waves of the Andean coastal cultures...these coastal cultures are really cool insomuch as they stylized Ocean things...waves, fish, seals, seashells...I don't see much of that else ware...maybe north coast North American tribes...two outs...Fletcher up...have gone on about the Strombus Monster...back a few posts...base hit...two rbis!...Angels 8-3...Fletcher becoming a favorite!...more hits...Simmons gets one...Trout up...home run!...eeshh...got up for a sec...come back...Angels 13-3!!!...lol...wait...before I go on about waves within waves, there's this Andean throne I've wanted to go on about!...hard to find good pic...from Moche replica drawings...
quote
https://www.google.com/search?q=moche+drawings&source=lnms&tbm=isch&sa=X&ved=0ahUKEwj0nbS26LPcAhVORK0KHVLgDmUQ_AUICigB&biw=1038&bih=429#imgrc=IpPkB_7DEhsrTM:&spf=1532300576164
unquote
Ohtani up...long fly out...ends inning...to top of 8th...note the throne just to the left of center lower register...it's a step throne...maybe I can find a better pic...oh...wave pic on page I'm looking for throne pics!...a teaser for tomorrowmorrow, as game time running out...
quote
https://www.pinterest.com/pin/484137028663057192/
unquote
Astros two out double...E4 run scores...Angels 13-4...here's a more distinct one...it's the 'sacrifice ritual' of the Moche...
https://www.google.com/search?q=moche+figure+seated+on+throne+drawing&tbm=isch&tbs=rimg:CRJH_1_10fZUuHIjjWOEY4CwAYDPjbxdcGs7m26S5tpYNpcW1j5ijbxRP7ylaQLtqKvsG8N-75vaWjYdcDqGj2RWeaRSoSCdY4RjgLABgMEQIILoD59XZ0KhIJ-NvF1wazubYREfTqaRYP0CAqEgnpLm2lg2lxbRGhlEZsOt6BGCoSCWPmKNvFE_1vKERdwy74wVYCsKhIJVpAu2oq-wbwRcJT9jJm67CcqEgk37vm9paNh1xGqgQeYpcEvISoSCQOoaPZFZ5pFEX9G1dxdwnIa&tbo=u&sa=X&ved=2ahUKEwj77L-S7LPcAhVCb60KHSL1AFAQ9C96BAgBEBg&biw=1038&bih=429&dpr=1.3#imgrc=tjVY1C502ugbfM:&spf=1532301568749
unquote
don't know but the four flare like things radiating backwards are the stylized four eye stocks of the Strombus Monster...
quote
http://www.thehistoryblog.com/
unquote
Angels going through relievers...
quote
https://historiaperuana.pe/periodo-autoctono/cultura-mochica/
unquote
another Moche waves within waves...collect them as I find them!...still looking for another throne...was seeing them all over, now can only find that one!...bases loaded walk...Angels 13-5...
quote
https://www.google.com/search?q=moche+sacrifice+ritual+drawing&source=lnms&tbm=isch&sa=X&ved=0ahUKEwjY98y57rPcAhWCyIMKHYGjDI4Q_AUICigB&biw=1038&bih=429#imgrc=N-75vaWjYdcLJM:&spf=1532302198134
unquote
these ritual portrayals can be really grim...that one, one of the most horrific I've seen...3-2 count...game is not in the bag...Upton catches a lazy fly ball...to bottom of 8th...but, but note the steps in the upper register...and the four maces on top the little canopy...those canopies have almost their exact counterpart in Sumerian and Egyptian artistries...for sometime...well, let me leap over not finding another throne pic of the Moche...
quote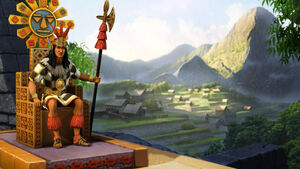 http://civilization.wikia.com/wiki/Pachacuti_(Civ5
)
unquote
I see the step throne in Inca replica illustration, and the Inca King is carried about in those reproduction festivals in one...Kinsler with a home run...Angels made out...Angels 14-5...to top of 9th...thing is, if the Southern Cross was stylized into the Inca Cross...for sometime to match-cut all these images in the previous posts!...and the steps in the step frets included...one can arrive at the assumption that anywhere one sees steps, it is harking to the Southern Cross, and the King's throne...and thought is the Andeans' Kings' Thrones incorporate in their stylizations, gnomic growth like the Egyptian King's thrones...if that's a reachable 'loose end' then it's a key to all the other stylizations!...like I said, a reach!...but those waves with waves are gnomic!...are the stepped checker board tunics, or those emblems on the Moon Island?...ground out, and that is how the game ends...highest scoring game of the season...Angels 14-5...continued...maybe in a day or two...think Angels have day off tomorrow...and I want to go see them play the White Socks!...
:)
:)
:)
DavidDavid